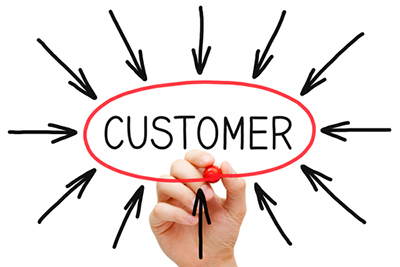 People who have a poor customer service experience tell an average of 12 people, according to research from CX Act, and those people tell some 72 more. Factor in social media and those numbers multiply quickly.
Amazing customer service, on the other hand, is what sets companies apart in this social age, creating a lasting impression and building brand loyalty. Companies like Amazon, the Ritz-Carlton, Nordstrom and Zappos and have mastered the art of exceeding customer expectations, and the good publicity from that has managed to further enhance the brands.
Great customer service has the ability to give your brand the edge over competitors, but it's crucial to understand the difference between just good customer service and the kind of customer service that knocks the socks off your customers, so to speak, making them want to come back for more. Here are the traits that set the most beloved consumer brands apart.
Flexibility (Say Yes!)
Brands that excel in customer service are flexible. They give their agents and employees the ability to do what is needed to please customers without rigid standards. Rather than pushing back if a customer is upset, they offer the customer some sort of discount, freebie or solution that goes above and beyond what the customer expects. They do whatever they can to say yes to the customer.
A Company-Wide Customer Service Culture
Great customer service extends far beyond the call center. The companies that get it right have created a culture that celebrates excellent customer service. Employees in all departments – from marketing and sales to IT – understand what makes for good customer service and how to deliver it. Employees from all departments will come in contact with customers, and every interaction matters.
Getting Ahead of Problems
Savvy companies anticipate customer problems and attempt to resolve them before the customer becomes upset. In a restaurant, this could mean bringing out an unexpected free appetizer when the food is taking longer than expected. For an online retailer, it could mean covering the shipping charges and offering a coupon for future purchases when an order takes longer than expected to arrive. By getting ahead of problems, companies avoid negative customer experiences and, in the process, often end up impressing customers.
Anticipating Needs Before the Customer Does
Sometimes, it's the small things that count. A hotel might leave a fresh pot of coffee outside the door of guests who have an early-morning checkout. For an online retailer, this might mean sending an email notification when a product is anticipated to run out and offering a 20 percent off coupon for a reorder. Customers are surprised and impressed when you anticipate what they need before it dawns on them. (Big disclaimer: unless the anticipation turns creepy, as was the case when Target figured out a teen girl was pregnant before her parents.)
Making an Emotional Connection With the Customer
Modern customers expect to be treated like individuals, receiving highly personalized service. They expect you to know their preferences and purchase histories. More than that, however, customers expect you to empathize with them and treat them like real human beings. This means understanding and relating to their situations, and remembering personal details about them. The days of sticking to a script are over – modern customer service is about making a real human connection with the customer.
Kunnect sells 100% cloud-based call center software that includes a predictive dialer to businesses and political campaigns. Our software, hosted seamlessly in the Amazon platform, manages all inbound and outbound calling for a flat rate of $125 per agent per month with a flat deposit of $125 per user. There are no hidden fees.